Implants and Tooth Replacement

Natick, MA
At Elite Dental of Natick, we are dedicated to helping you restore your smile and teeth so you can eat and smile confidently again. We can provide all these services under one roof: you do not need to travel between different offices – we can do it all.

We offer a variety of options to replace teeth from single or multi-tooth implants, fixed implant bridges, implant supported dentures, and conventional dentures. We partner with 3rd party dental financing companies that specialize in dental to help make full mouth restorations accessible.

At Elite Dental of Natick, Dr. Polnar and our oral surgeons can help you feel great about your smile again.


Tooth Replacement Options at a Glance

We understand losing your teeth can be traumatic and want to keep you comfortable and happy throughout your experience in restoring your teeth so you can chew and smile confidently. Dental Implants are the most optimal solution outside of natural teeth in replacing your teeth. Our options at a high-level with a comparison of each:

· Implant Bridges & Single Implants: 1-2 dental implants can be used to replace a set of 1-4 teeth. With a 4 unit implant bridge, the 2 dental implants replace the roots of the teeth and maintain the jaw bone around them. Custom abutment "connectors" are attached to these dental implants to connect the implant itself to the tooth. Then implant crowns are placed on top of the implants. For a single implant, this is one implant crown. For an implant bridge, the ends of the teeth are implant crowns that connect to the custom abutments and the middle teeth are connected to these "anchor" teeth.

· Full Arch Dental Implants (All-On-X, Teeth-In-A-Day): the best solution to replace a full set of teeth so you can eat and smile confidently while maintaining your jaw bone. The teeth are affixed to 4-6 implants and stay in your mouth all the time and only removed when they need to be cleaned by a dentist. We use specific protocols to reduce the number of appointments needed to prepare your smile transformation. On the day your implants are placed, you get teeth that day fixed to those implants! These teeth will be beautiful and functional while your implants integrate with your jaw bone. Your permanent smile is typically ready 4-6 months later when we prepare your final fixed arch bridge. Some patients need more grafting to improve jaw bone quality ahead of implant placement.

· Implant Supported Dentures: similar to full arch, however the teeth "snap-in" to 2-4 implants in the jaw bone rather than staying in the mouth all the time. Chewing function is significantly better than Conventional Dentures, however not as good as fixed. Treatment typically takes 6-12 months depending on the extent of bone grafting required.

· Conventional Dentures: the most affordable and immediate solution. Treatment typically takes 1-3 months depending on the condition and quantity of teeth prior to treatment. Following tooth extraction, you leave the office with a full set of teeth that will require adjustments as your jaw bone changes following tooth removal. This is a solution that could work, however many patients struggle as they lose jaw bone with fit of the dentures especially with the lower arch.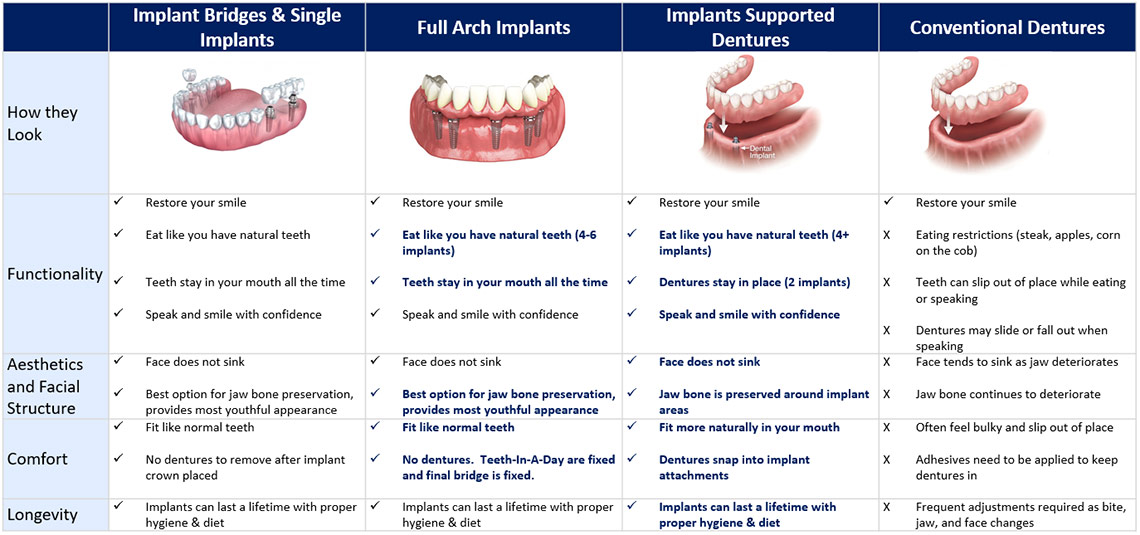 Please continue reading to learn more about each of these options.


Dental Implants

A dental implant is a small titanium post that we surgically embed into the jawbone. This can be used to replace one or many teeth that are close together with a single implant or a bridge supported by implants. Outside of natural teeth, dental implants are the next best thing to restore your ability to eat, chew, and smile. There are typically two steps to an implant procedure: first we will perform the implant surgery, which may involve tooth extraction and grafting or sinus lifts followed by placing the implant post. You will heal for approximately 5 months for single tooth implants at which point we will restore your tooth with the "abutment" which connects the implant to the "implant crown". During the healing period, the implant will fuse to the bone in your jaw which is a process called "osseointegration" to ensure your tooth is strong enough to bite with.

An implant feels, looks, and functions like a natural tooth. For this reason, dental implants are widely considered to be the next best thing to your natural teeth. At Elite Dental of Natick, you can get the whole procedure done under one roof where our oral surgeons will place the implant and Dr. Polnar will perform the final restoration of the implant crowns.
Learn more about the benefits of dental implants.


Full Arch Dental Implants (All-On-X, Teeth-In-A-Day)

Do your teeth constantly hurt or impacting your ability to eat, speak, and smile confidently? Do you struggle with your dentures? Are they loose-fitting and uncomfortable when you eat or speak or give you sore spots at the end of the day? You are not alone and we are here to help you with permanent teeth that stay in your mouth all the time. We understand this is a big deal to you and we want to give you the best experience possible. You won't have to take your teeth in and out of your mouth anymore except when you come to see us for periodic cleanings. Your jaw bone will be maintained so that your face doesn't sink. This is a transformational solution that can last a lifetime with proper hygiene & diet.

At Elite Dental of Natick, our state-of-the-art fully digital workflow and team of dental implant providers enable you to get this wonderful and life-changing work done all under one roof. We use revolutionary full arch protocols which eliminate frustrations experienced with ill-fitting dentures. We are able to create a fixed, permanent solution to your oral health, providing you with a stable and healthy restoration, supported on dental implants. You get fixed Teeth-In-A-Day when implants are placed and will be well on your way to your permanent, beautiful smile. Patients that get this treatment enjoy the foods they love, and quality of life they deserve. Our protocols allow us to expedite and minimize the # of appointments needed to deliver your permanent Zirconia bridge once your implants are fully integrated with your jaw and while you get used to your new fixed set of teeth (typically 4-6 months). Need more extensive bone grafting or failed implant removal – we can do that too and often fix issues for poorly placed cheaper implants overseas.

Our fixed implant arches start at $17,999 for full arch implants for an arch of 4 implants and includes cone-beam CT scan, any tooth extractions, teeth fixed the day implants are placed, and oral sedation. We partner with 3rd party financing that makes this work accessible.
Learn more about Full Arch Dental Implants and Learn more about Why Patients Prefer the Hybridge Protocol.


Implant Supported Dentures

Here at Elite Dental of Natick, we understand that losing your teeth can be physically and emotionally traumatic, but rest assured you do not have to continue suffering needlessly. Implant supported dentures are a more affordable and effective solution compared to placing an implant in every tooth in your mouth. If the majority of your teeth are non-restorable, we can restore your smile with as little as 2-4 implants that "snap-in" to a removable denture. You can eat and speak like you have natural teeth, you don't have to deal with "denture glue" as these stay in place, and the implants help maintain your original jaw bone so your face does not sink. This solution can last a lifetime with proper hygiene & diet.

No matter what your situation is, we are here to provide you with several customizable options to fit your specific needs and lifestyle. At Elite Dental of Natick, you can get the whole procedure done under one roof where our oral surgeons will place the implants and Dr. Polnar will prepare and fit the implant attachments and implant supported denture.
Learn more about the implant supported dentures.


Dentures: Complete & Partial

A denture is a removable appliance that is usually used to replace one or more missing teeth. A partial denture usually attaches to the surrounding teeth with metal clasps. A complete denture consists of a flesh-colored acrylic base that supports a complete arch of prosthetic teeth. While implants are the best option to fix non-restorable teeth and to help you eat and smile, the dentures we place are beautiful and functional.

Your jaw bone may continue to deteriorate, requiring further ongoing adjustment and making implant placement more challenging. However, dentures are the most affordable option and are custom-fit dentures as a more comfortable, functional, and durable solution.
Discover how different types of removable dentures can replace missing teeth.


Bone Grafting and Sinus Lifts

For a dental implant to be successful, you must have a sufficient amount of bone in the jaw. If your bone is too thin or soft, it may cause the implant to fail. Patients with inadequate bone may need to undergo a bone graft.
Learn more about the bone grafting.